How do I register my card?




Where can I register my peggo card?
Registering your peggo card is simple and will only take you a few minutes. There are three easy ways you can register your card:
By calling 311,
In Person at one of our Customer Service Centres.
How to Register Online
To register your card you'll first need to create a user account. For each peggo card user in your house you'll need to create a user account. Each card is linked to its own user account. To begin you'll need to go to our peggo online page and click on the sign up button.
Once there you'll need to enter the usual account creation information such as name, email address, date of birth, home address, and a few other details,

Next, select the card type you're going to use as well as a few security questions you'll need for logging in to your account and that you'd use should you lose your card.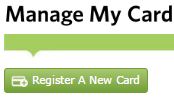 Once you've completed this section you'll be redirected to the Manage My Card page. Here's where you'll register your peggo card. Clicking on the Register a New Card button will take you to the page where you enter your card's serial number and CVV.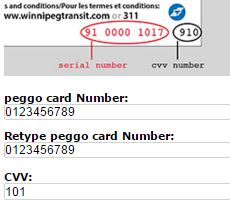 Your peggo card serial number and CVV are located on the back of your card. Your 10 digit serial number needs to be entered with no spaces. The last three digits of the card are your CVV, which you'll enter in the CVV box. If you're having trouble identifying your CVV you can use the handy image that will be located just above the CVV box when you are on the serial number page (the image shown here is what will be displayed when you are registering)
Click Register Your Card and your registration process is complete. Now you just have to go and use your card on a bus to activate your registration rebate.
Why would I want to register my peggo card?
All peggo cards are sold as anonymous cards, which means there is nothing that attaches you to your card, other than the fact that it is in your possession. If you lose your anonymous peggo card, any fares you have on the card cannot be returned to you. If you lose a registered peggo card, you will have the ability to recover the remaining value from the card. For example, if you lose your card and report it stolen on a Tuesday, all the remaining balance from the end of service on Tuesday would be transferred onto your new peggo card. Any fares used before Tuesday, or on Tuesday, cannot be recovered.
There are other benefits to registering your peggo card such as:
Special accessibility features to make transit travel easier for passengers with hearing, vision, and cognitive challenges
Passenger display information provided in your choice of 18 languages, selected through the settings on your peggo card
You can arrange to have fare products automatically reloaded onto your peggo card.

For example, you could set an auto reload on your 28 day e-pass so you never have to worry about running out to add another pass to your peggo card.