Bike and Bus
Bike Racks on Buses
Winnipeg cyclists can take their bikes along for the bus ride using racks installed on the front of select Winnipeg Transit buses, in all seasons but winter.
There's no cost to use the bike rack – simply pay your regular transit fare when you board the bus and enjoy the ride.
The bicycle racks accommodate two bikes per bus and are available on a first-come-first-served basis.
Refer to the Loading and Unloading for instructions on how to properly secure your bike.
Planning Your Bus/Bike Trip
Buses with bike racks are prioritized for use on the BLUE rapid transit line, and used on other routes as available.
Schedules and Navigo trip plans on the Winnipeg Transit app indicate which buses have bike racks on them, using a bicycle icon.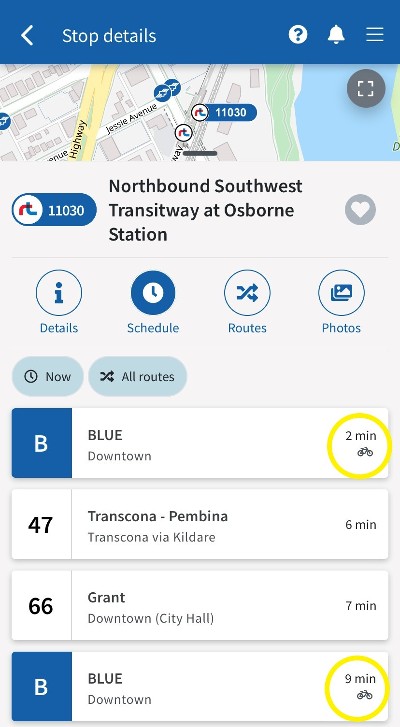 Note: Schedules and Navigo will indicate which buses have bicycles when you are planning a trip for the current day or selecting 'Today' as the schedule type only.
Travel Tips
Load and unload your bike as quickly as possible.
Avoid unsafe conditions that may cause the bus operator to refuse a cyclist transportation:

A child seat or luggage carrier on a bike that interferes with visibility.
A bike that doesn't fit on a rack. Most bicycles can be accommodated on the bike racks, however, some large or small bicycles may not fit.

Always remember to remove your bike after you arrive at your destination. Note: new Bike & Bus Program riders often forget to remove their bikes.
Keep in Mind
Cyclists are responsible for properly securing their bike.
Always load and unload your bike from the front or curbside of the bus.
For safety reasons, a bus operator cannot leave the bus to assist you but can provide verbal instruction upon request.
For your convenience, instruction decals are conveniently located on the bicycle racks.
Winnipeg Transit is not responsible for lost or stolen bicycles or for damages incurred or caused by bicycles.
Loading
Before the bus arrives, prepare your bike for loading by removing any loose items, such as water bottle, pump, lock, etc.
Indicate to the operator that you'll be loading your bike.
How to use a Bike Rack
If a rack is empty, hold your bike with one hand, squeeze rack handle to release latch, then lower.
Lift bike onto the rack, placing wheels into proper wheel slots.
Raise support arm over front tire to secure your bike.
Use common courtesy: If someone wants to remove their bike, let them do so before loading your bike.
Unloading
Before reaching your destination, inform the operator that you will be unloading your bike.
Use front door to exit the bus.
Raise support arm off the tire.
Lift your bike from the rack (if the rack is empty, fold up the rack to lock position).
Step away from bus and signal to the operator you are clear from the bus.
Transit Bike Lockers
Winnipeg Transit has installed bike lockers at the all Rapid Transit Stations along the Southwest Transitway, as well as at Osborne Junction and the Taylor Park and Ride.
These lockers allow you the option of cycling from Fort Garry, Fort Rouge, South Winnipeg, River Heights, and Tuxedo to one of the locations with a locker where you can safely lock your bike (you supply the lock) and then take Transit to your final destination.
Using a locker
To use the locker find an open compartment and put your bike inside. Use your bike lock to lock the locker. The locking mechanism can accommodate a "U-Style" lock as well as some cable/chain locks. Click on the photo gallery below for instructions on how to use the lockers.
Bike Lockers Conditions of Use
Only bicycles and associated cycling equipment are permitted in bike lockers
Bike lockers must be emptied of all contents and locks removed by 1 a.m. each day of the week
Locks not removed from lockers by 1 a.m. may be removed by City of Winnipeg staff. Locker contents will be left at Winnipeg Transit's Downtown Service Centre in the Southwest Concourse, under Portage and Main.
If the use of a bike locker contravenes these Conditions of Use, no compensation shall be paid for locks removed by the City of Winnipeg.
The City of Winnipeg assumes no responsibility for lost or stolen property stored in the bike lockers.
If you have questions, comments, or concerns regarding these Conditions of Use please contact 311