BLUE Rapid Transit Line

BLUE is a new rapid transit line providing frequent, reliable, high-speed service between Downtown, the University of Manitoba and St. Norbert.
With the debut of BLUE, some routes in Southwest Winnipeg have been replaced with new ones, while other routes have changed.


BLUE travels along the Southwest Transitway in order to bypass congestion on Pembina Highway. Passengers can catch the BLUE rapid transit line at Southwest Transitway stations, as well as stops along Graham Avenue and Main Street downtown, and Pembina Highway south of Markham Road.
Frequency of BLUE Service
Weekday-Rush Hour
Weekday-Day
Weekday-Night
Weekend-Day
Weekend-Night

BLUE

–

SWT

Mainline
4-5 min
6 min
10-15 min
10-11 min
10-12 min

BLUE

– U of M Branch
4-8 min
7-13 min
20-30 min
20-22 min
20-35 min

BLUE

– St. Norbert Branch
8-15 min
20 min
20-30 min
20-22 min
20-35 min
What are feeder routes?
Feeder routes are shorter routes that take passengers from local communities to Southwest Transitway stations and major stops on Pembina Highway.
Feeder route buses are less likely to be delayed since they avoid areas of the city with congestion, like Downtown. Feeder routes in Southwest Winnipeg are three digits long, and start with a "6".
Transit in Southwest Winnipeg




Click the map to view a printable version of the new Southwest Winnipeg network
Shaping a network
Thank you to everyone who provided input to Winnipeg Transit in the route-planning process — online, over the phone and in-person at the Ideas in Motion Bus pop-up events.
The resulting network was shaped by your ideas.
You can plan your trips on the improved network using the Navigo Trip Planner.
You can also use the lists below to explore maps of the new routes and updated routes, and see how frequently they run.
Frequency of New Feeder Routes
Changed Routes
How will I plan my trip?
By logging on to the Navigo Trip Planner! Winnipeg Transit's existing trip planning tools are up to date with all routes and schedules for the new network in Southwest Winnipeg.
The Southwest Transitway
Completed in 2019, the Southwest Transitway is an 11-kilometre dedicated roadway constructed to keep the BLUE rapid transit line separate from other traffic, allowing buses to travel at speeds up to 80 km/h.
Passengers have access to a number of amenities along the Transitway, designed with an easier, more comfortable commute in mind.
Of the new Park and Ride parking spots, 665 are located adjacent to Seel Station.
Park and Ride
The launch of the BLUE rapid transit line brings passengers new opportunities to park their cars and hop on board Winnipeg Transit – more than 1,000 new park and ride spots have been installed at Seel Station and Clarence Station.
The parking spots are available for special events at attractions along the BLUE Rapid Transit Line, including IG Field, and are provided free of charge for anyone using Transit services.
Additionally, passengers can get dropped off at a Kiss and Ride located at Beaumont Station.
Active Transportation
A protected and accessible active transportation path runs along the full length of the Southwest Transitway, connected to existing active routes and illuminated at night to enhance safety and visibility.
Bike Lockers and Racks
Each station along the Southwest Transitway is outfitted with bike lockers, to allow for easy transitions from bike to bus.
For passengers who prefer to take their bikes with them, each of the 28 new articulated buses purchased for the launch of BLUE is outfitted with a bike rack capable of carrying two bicycles, in all seasons but winter. Online schedules display a bike icon to identify routes with bike racks on them.
Station Amenities
Winnipeg Transit is rolling out new digital displays featuring real-time passenger information at each of the stations, which are also outfitted with heated bus shelters.
Public Art
Passengers riding the BLUE rapid transit line can take in public art projects along the route, thanks to a partnership with the Winnipeg Arts Council.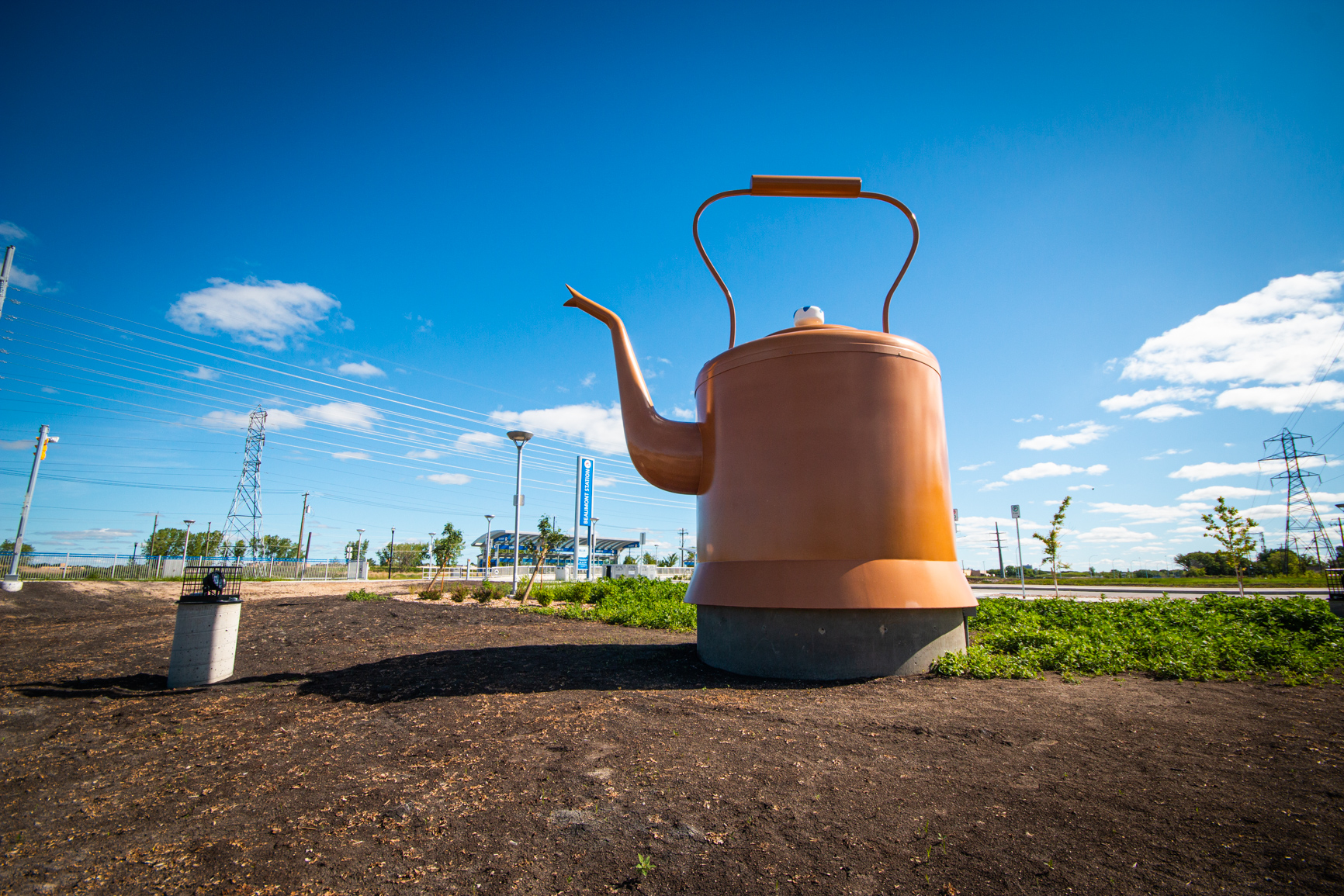 Métis artist Ian August's 'Rooster Town Kettle', located at the Beaumont Station
For a map of where the art is located and more information about the works, check out this brochure produced by the WAC.
The new works launched alongside BLUE include:
Rooster Town Kettle and Fetching Water by Ian August, located at Beaumont Station
Furrows in the Landby Jeanette Johns, located at Seel Station and McGillivray Overpass

ROW

ROW

ROW

by Public City Architecture and Urban Ink, located at Clarence Station
Salt Fat Sugar / Your Water is Safe by Bill Burns, located at Chevrier Station
テンサイ (Tensai) by Cindy Mochizuki and Kelty Miyoshi McKinnon of

PFS

Studio at Plaza Station
(Un)Still Life with Spoked Wheels by Warren Carther, located at Chancellor Station and Bishop Grandin Overpass
Métis Land Use by Tiffany Shaw-Collinge, located at Markham Station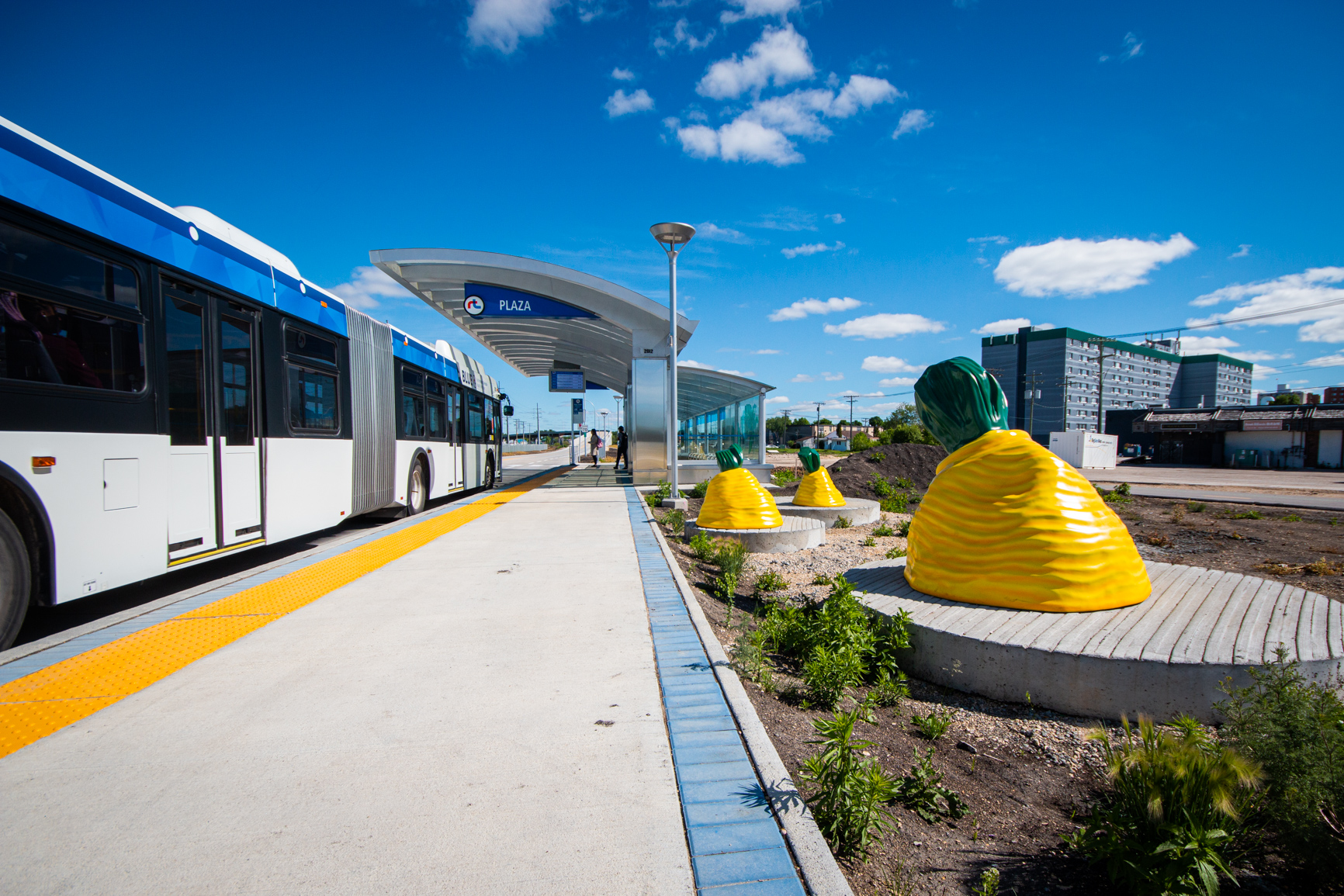 テンサイ (Tensai) by Cindy Mochizuki and Kelty Miyoshi McKinnon of PFS Studio, located at Plaza Station
Frequently Asked Questions
Q: I used to take the 181 home every day. Now I am told I have to take 2 buses to get home; is this correct?
A: Yes, you will have to take 2 buses to get home; the buses leaving the downtown area are expected to be more reliable as they will be running every 3-4 minutes to get passengers to a Transitway station. Feeder routes are also expected to be more reliable as they will not be travelling though the downtown area.
Q: Why do I need to transfer? I used to have a direct route to my destination.
A: Transfers are an important part of the design of a more frequent, reliable service using the BLUE rapid transit line, for multiple reasons.
In the past, Winnipeg Transit prioritized one-seat-rides between Downtown and a variety of Southwest Winnipeg communities during rush hours, because they were seen as being more convenient. However, the number of buses in Downtown Winnipeg can often cause delays on streets like Graham Avenue, especially during rush hour periods.
Further, some of these buses fill up with passengers who only need to ride for a short distance, meaning there may not be enough room left for passengers who want to ride further along the route to reach a specific community.
By separating service into BLUE and intersecting feeder routes, Winnipeg Transit has been able to increase capacity and maintain frequent service to and from Downtown.
This is in part because it is easier to coordinate one route — the BLUE rapid transit line — than it is to coordinate multiple routes in and out of Downtown.
It's also because BLUE operates frequently enough to ensure delays of individual buses would only have a minor, localized effect. Winnipeg Transit has also ensured feeder routes are short enough to prevent delays.
The end result is more reliable service and better, more frequent travel options for our passengers.
Q. I don't see my usual bus route on the map of the new network in Southwest Winnipeg. What happened to it?
A: The BLUE rapid transit line and 14 new community feeder routes take the place of a number of routes that no longer operate as of April 12, 2020.
The easiest way to find out your route options is to plan a future trip using the Navigo Trip Planner.
The following routes have ceased operating:
51 St. Vital Centre/University of Manitoba;
64 Lindenwoods Express;
72 South Point/University of Manitoba;
76 St. Vital Centre/University of Manitoba;
84 Lindenwoods/Fort Rouge Station;
86 Bridgwater/Fort Rouge Station;
94 Pembina/Wildwood/Whyte;
99 City Hall/Windermere;
109 St. Norbert Dart;
137 Richmond Super Express;
161 University Super Express;
162 Richmond Express;
163 Waverley Heights Express;
170 University of Manitoba/St. Norbert/Downtown;
180 Industrial Express;
181 Whyte Ridge Express;
183 Richmond West Express; and the
185 Osborne Village Express.
Q: Do the new feeder routes follow the same routes of those they are replacing?
A: Many feeder routes are similar to current neighbourhood express routes to Downtown, but instead terminate at the Southwest Transitway stations or Pembina Highway. Routes are 3 digits and start with a "6". Feeder routes are much less likely to be delayed by traffic because they do not operate Downtown.
Q: What kind of bus service will operate on Pembina Highway after April 12?
A: Winnipeg Transit continues to operate two high-frequency routes along Pembina Highway, where passengers can also connect to feeder routes.
Starting April 12, route 60 Pembina operates more frequently on weekdays, with service scheduled every ten minutes during morning and afternoon rush hours.
Route 47 Transcona, which currently ends its trip Downtown, becomes route 47 Transcona/Pembina. It now extends south to replace the former 160 route, providing single-bus service from Transcona to the University of Manitoba.
Once route 47 reaches Downtown, it travels along Main Street and stage 1 of the Transitway before veering onto Pembina Highway at Jubilee Avenue. Route 47 no longer travels on Graham Avenue.
Q: I see that the 160 bus has been discontinued. Can you tell me why?
A: Yes, the 160 route has been merged with the route 47. This bus now travels from Transcona to the University of Manitoba, and no longer travels on Graham.
Northbound passengers who need to reach Graham Avenue can transfer from route 47 to the BLUE rapid transit line at:
Union Station (Downtown)
Jubilee Station
Fort Rouge Station
Osborne Station
Harkness Station
Q: I see there is a new route 23. Can you tell me what this replaces?
A: Route 23 Broadway/William replaces the Broadway/City Hall portion of route 29.
Route 29 Sherbrook/Stafford now travels from the Health Sciences Centre area to the existing Windermere terminal – and new Beaumont Station on the BLUE rapid transit line – only.
Route 23 Broadway/William travels from City Hall to Union Station via William, Health Sciences Centre, Sherbrook/Maryland, and Broadway.
Q: I just tried to call the Dart 109 Bus, and no one is answering. Is this route still running?
A: No. As of April 12 the Dart 109 bus has been replaced by the route 91; it now runs all day from Pembina and Killarney into the St. Norbert area.
The 91 runs from:
6 a.m. to 1 a.m. on Weekdays;
7 a.m. to 1 a.m. on Saturdays; and
7 a.m. to 7 p.m. on Sundays.
Q: I live near the Southwest Transitway. What's been done about noise?
A: The City used feedback from residents in the project planning for the transitway. As a result, measures have been taken to mitigate noise and vibration for nearby homeowners. The concrete works for the Southwest Rapid Transit Corridor were designed to minimize vibration from transit vehicles. A noise attenuation wall has been built, extending from Bishop Grandin to Markham, on City property adjacent to residents' property lines.