What's New
Transit fall service changes in effect Sunday, Sept. 3
Winnipeg Transit's fall schedule will be in effect on Sunday, Sept. 3. As part of the fall schedule, schedule changes will be in effect on the following routes:
We recommend all transit users check Navigo before travelling.
Changes coming to Route 17
On Sunday, September 3, 2023, a change will take effect to a downtown portion of Route 17 McGregor – Misericordia to Maples/Amber Trails. A new bus stop is being installed on a realigned portion of Smith Street, just south of Notre Dame. To access this stop, the 17 will now travel from Fort Street to Ellice Avenue, then on to Smith Street, then on to Notre Dame.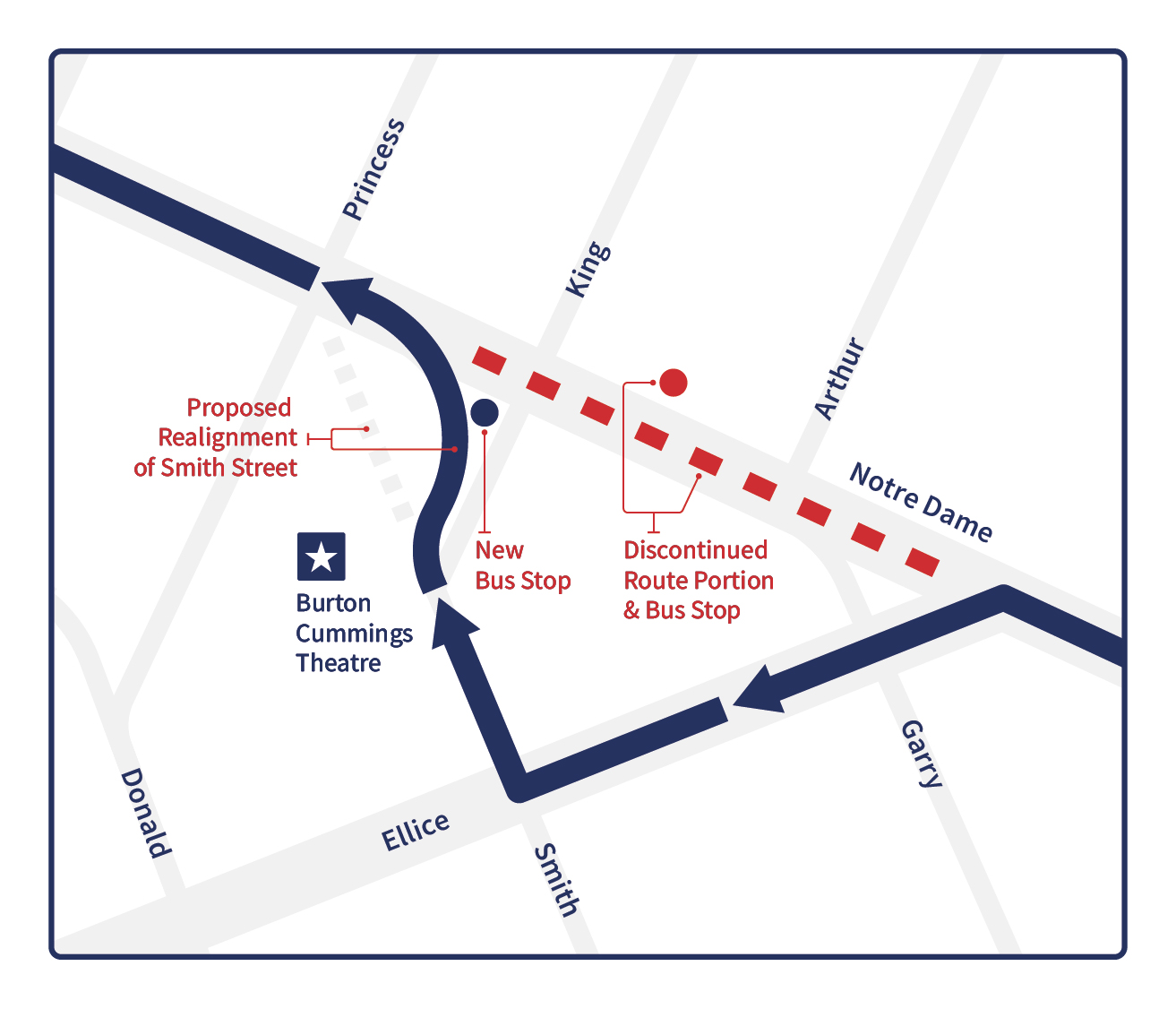 As a result of this change, a bus stop on Notre Dame between King and Arthur Street is being discontinued.
This change is being made in preparation for Primary Network service as described in the Winnipeg Transit Master Plan, and the new bus stop will include improved amenities for passengers.
Smart card rebate ending July 1
The rebate offered with the purchase of peggo smart cards ends July 1.
When peggo was first introduced in 2016, the $5 rebate of the cost of the card was offered to customers to encourage them to switch from paper passes, for a limited time. That time has come to an end. Customers who haven't received the smart card rebate yet and wish to must take these steps before June 30:
Use their card for two separate trips on two different days
This $5 rebate will also be available for new cards, as long as they are purchased, registered, and used twice as described above by June 30, 2023.
After June 30, the $5 cost of a peggo card will not be refunded.
WINNpass program expanding in 2023
Dec. 22, 2022 — The new year will bring an expansion to the WINNpass program to eligible residents, with changes effective Jan. 1, 2023 expected to benefit more low-income households.
Under the expanded program, youth who meet criteria will now be eligible for the WINNpass. And all WINNpass holders will now have the option to purchase e-cash for rides at a 50% discount on the full fare rate, in addition to the monthly passes already available with the same discount.
These changes build on others made to remove barriers to the WINNpass program and improve access to public transit. In September the program began accepting third-party referrals from partner agencies for applicants who were unable to provide supporting documents otherwise.
Low-income households who may benefit from discounted e-cash and/or youth eligibility are encouraged to apply for the WINNpass program.
More information is available on the WINNpass page.
Other fare changes coming in New Year
The following fare changes will take effect January 1, 2023:
Select e-pass fare products will no longer be available. Fare product options being eliminated account for 3-4 % of total fare sales and alternatives for those products will still be available.
An annual inflationary increase will apply to all fares. The new cash rate in 2023 for adults will be $3.15.
Note: 2022 bus tickets (plus applicable cash difference) will be accepted until March 31, 2023.
Change to
BLUE

rapid transit route

Effective as early as December 22, 2022, BLUE will no longer travel on Avenue De l'Église Avenue, Rue Landry Street and Avenue Landry Avenue in St. Norbert. Instead, BLUE will u-turn on Pembina Highway at Rue des Trappistes. Drivers are advised a transit priority signal will go into operation at that intersection, which will allow the bus to make the turn while all other vehicles are stopped.
Bus Shelters in Need of Repair
For the past year, Winnipeg Transit has been experiencing an unusually high rate of bus shelter vandalism. Due to the high number of replacement glass panes required for repairs, and ongoing supply chain issues, our supplier is having difficulty fulfilling our orders in a timely manner.
We continue to work diligently with our supplier to replace damaged glass as quickly as possible. Transit's repair team is on the street every day, completing repairs as quickly as possible.
We ask that anyone who sees a recently damaged shelter in need of repair to contact 311.
Winnipeg Transit launches education campaign defining Priority and Courtesy Seating Areas
July 6, 2022 – Winnipeg Transit is launching a campaign to educate passengers about their role in accessible public transportation and a Council-approved policy for priority and courtesy seating areas on buses. The campaign will focus on the importance of working together to help ensure persons with a disability have equitable access to transit as outlined under the Priority and Courtesy Seating Area Policy.
The policy outlines that priority seating is designated for passengers with a disability, and courtesy seating is for others who benefit from being seated near a door, including seniors and families traveling with young children. It will take a combined effort from all passengers to ensure priority seating is available for those it's designated for.
The policy outlines the important role of all passengers to keep transit accessible to everyone.
Under the policy, passengers are asked to save seats in the Priority Seating Area for passengers with disabilities. When a passenger with a visible or invisible disability who requires a seat in the priority area boards a bus, passengers who don't have a disability sitting in that area will be asked to move to another location on the bus. The operator will play an automated message with this request, and if necessary, may also remind other passengers directly to vacate the area.
The policy will go into effect following three months of public education, on October 5, 2022.
A passenger with a disability will not be not required to move to make space for another passenger with a disability, however, if a mobility aid securement space is needed, they may be encouraged to move to alternate seating, as wheelchair or scooter users may not be able to access the bus otherwise.
Look for these signs coming to Transit buses to identify priority and courtesy seating areas:


With our current bus designs, the priority seating area is located at the front of the bus. The courtesy seating area includes the forward-facing seats located closest to the priority seating area.
The new policy requires that passengers must be able to fold and store strollers on buses if necessary to ensure the priority seating area is available for passengers with disabilities, and follow size guidelines for strollers. Winnipeg Transit has also identified size guidelines for wheelchairs and scooters.
Winnipeg Transit is committed to its primary goal to ensure accessible transportation for the duration of the entire trip including boarding and exiting at bus stops. The new policy also enhances accessibility by stating passengers should allow persons with a disability to board the bus first.
Winnipeg Transit is committed to meeting its requirements under the Accessibility for Manitobans Act and ensuring its operators and inspectors are trained in areas related to accessibility to help provide the best customer service possible.
Understanding and Responding to the Transit Needs of Women in Canada Report
A recent knowledge mobilization study co-funded by Social Sciences and Humanities Research Council and Infrastructure Canada looked at the role of gender in transit policy, seeking to understand how Canadian women's travel needs and experiences differ, and how these differences are considered in public transit planning.
You can read the report online.
New Winnipeg Transit app now available for schedule information
Winnipeg Transit is debuting a new, accessible, and convenient application for looking up bus schedules and planning trips on Navigo. The mobile version of the Winnipeg Transit app is now available on the App Store and on Google Play, and can also be accessed through an internet browser.
With the launch of the app, which includes improved trip planning functions with a new look and feel, schedule information is now available in both French and English.
Users are encouraged to download the mobile version of the app, which provides the option of logging in to save trip settings, such as favourite stops and routes, allowing users to access these settings from multiple devices.
Transit invites app users to provide feedback on the app by May 15, 2022 to help improve functionality, through the mobile apps directly or by email. After Transit has had an opportunity to incorporate feedback, the app will replace the schedule information tools currently available for desktop and mobile browsers, including BUSguide and tools available on winnipegtransit.com. To help gather feedback, initial iPhone and iPad users will be prompted to download the TestFlight app to gain access, while on Google Play the app will be labelled 'Early Access'.
Mask usage
March 15, 2022 – The Province has removed mask requirements from the provincial Public Health Orders, however the City continues to strongly recommend the use of masks in city facilities, along with on Winnipeg Transit beyond March 15. Mask requirements will remain in place for all City employees, including Winnipeg Transit Plus drivers, for the foreseeable future.
Other current health and safety measures in our workplaces, such as plexiglass barriers, physical distancing, encouraging the completion of the self-screening questionnaire before reporting to work, and employee symptomatic testing, will be maintained.
For more information on the City's response to COVID-19, see: winnipeg.ca/COVID-19.
Quoi de neuf?
Les autobus rouleront à l'horaire d'automne à partir du dimanche 3 septembre 2023
L'horaire d'automne de la Régie des transports de Winnipeg entrera en vigueur le dimanche 3 septembre 2023. Cet horaire inclura des changements apportés aux lignes suivantes :
Nous recommandons que toutes les personnes qui se servent du transport en commun vérifient Navigo avant de se déplacer.
Changements à venir pour la ligne 17
Le dimanche 3 septembre 2023, un changement entrera en vigueur dans une portion du centre-ville de la ligne 17 « McGregor – Misericordia to Maples/Amber Trails ». Un nouvel arrêt d'autobus est en cours d'installation sur une portion réalignée de la rue Smith, juste au sud de l'avenue Notre-Dame. Pour accéder à cet arrêt, la ligne 17 empruntera désormais la rue Fort jusqu'à l'avenue Ellice, puis empruntera la rue Smith et l'avenue Notre-Dame.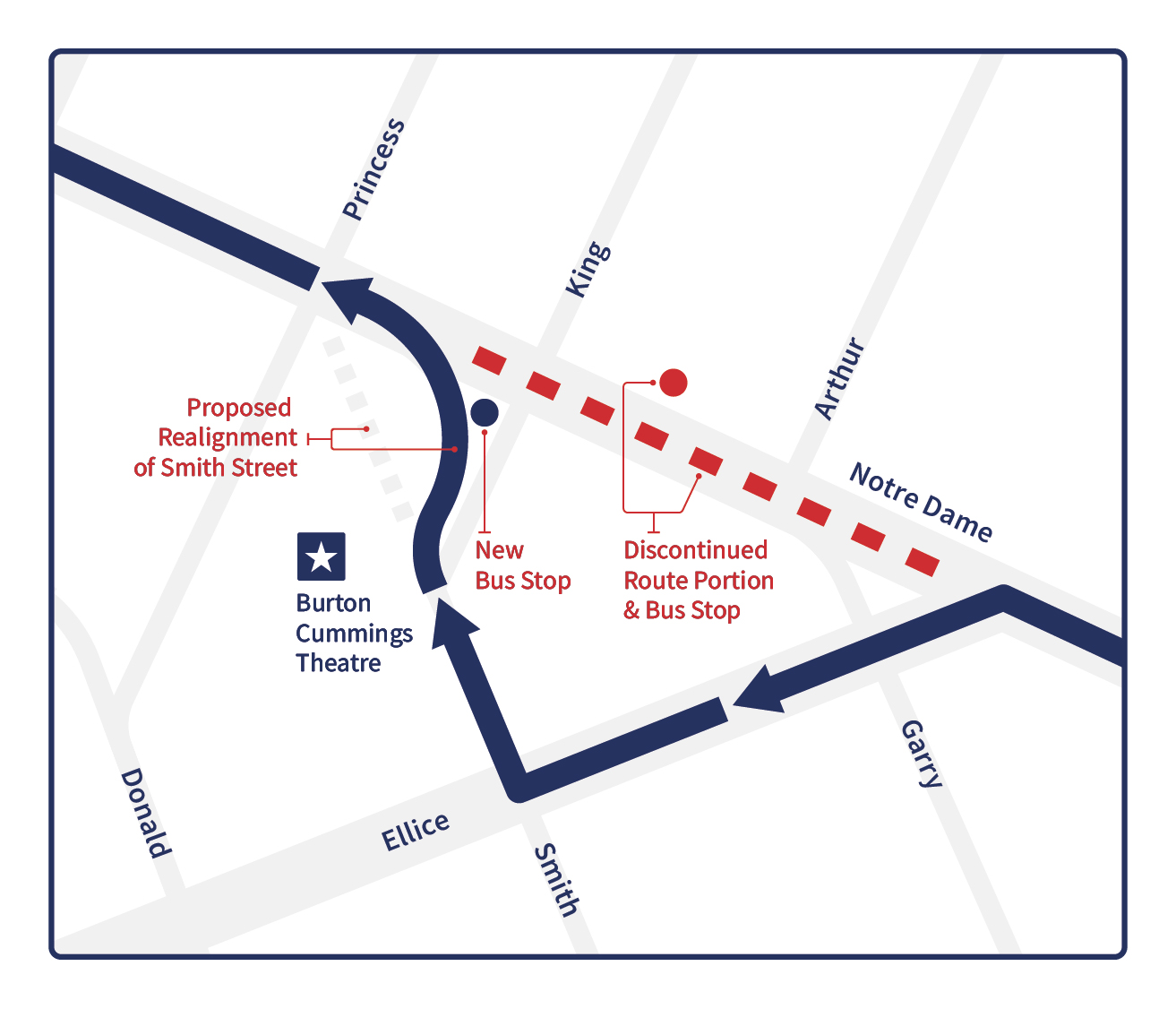 À la suite de ce changement, un arrêt d'autobus sur la portion de l'avenue Notre-Dame entre la rue King et la rue Arthur va être supprimé.
Ce changement est apporté en préparation au service du réseau principal décrit dans le Plan directeur du transport en commun de Winnipeg, et le nouvel arrêt d'autobus comprendra des commodités améliorées pour les passagers.
Expansion du programme WINNpass en 2023
Dès la nouvelle année, on élargira le programme WINNpass pour les résidents admissibles, et des changements visant à aider plus de ménages à faible revenu entreront en vigueur le 1er janvier 2023.
Dans le cadre du programme élargi, les jeunes qui remplissent les critères seront désormais admissibles au WINNpass. De plus, tous les titulaires d'un WINNpass auront désormais l'option d'acheter de l'argent électronique envers leurs déplacements à une réduction de 50 % par rapport au plein tarif, en plus des laissez-passer mensuels auxquels s'applique déjà cette réduction.
Ces changements viennent s'ajouter à d'autres changements qu'on a déjà effectués pour supprimer les obstacles au programme WINNpass et améliorer l'accès au transport en commun. En septembre, le programme a commencé à accepter les vérifications par un tiers faites par des organismes partenaires pour les personnes qui n'étaient pas en mesure de fournir des documents d'appui autrement.
On encourage les ménages à faible revenu à soumettre une demande au titre du programme WINNpass si la réduction de l'argent électronique ou l'admissibilité des jeunes peut leur être utile.
D'autres renseignements sont donnés sur la page portant sur le WINNpass.
Autres changements qui s'appliqueront aux tarifs dès la nouvelle année
Les changements qui suivent s'appliqueront aux tarifs dès le 1er janvier 2023 :
Certains laissez-passer électroniques ne seront plus offerts. Les titres de transport qui ne seront plus offerts correspondent à 3 ou 4 % de tous les titres vendus, et on offrira toujours des options de rechange.
Une augmentation inflationniste annuelle s'appliquera à tous les tarifs. Le tarif comptant pour adultes sera de 3,15 $ en 2023.
À noter : Les billets d'autobus de 2022 (plus l'écart de caisse applicable) seront acceptés jusqu'au 31 mars 2023.
Modification de la ligne de transport rapide
BLEUE
À partir du 22 décembre 2022 au plus tôt, la BLEUE n'empruntera plus l'avenue de l'Église, la rue Landry ou l'avenue Landry à Saint-Norbert. Plutôt, la BLEUE fera demi-tour sur le chemin Pembina au niveau de la rue des Trappistes. On tient à informer les automobilistes qu'un feu de priorité pour le transport en commun deviendra opérationnel à cette intersection, ce qui permettra à l'autobus de faire demi-tour pendant que tous les autres véhicules sont arrêtés.
Changements à venir pour les lignes 45, 87, 93 et 98
Dès le dimanche 11 décembre, les changements suivants seront en vigueur :
Abribus ayant besoin d'être réparés
Au cours de la dernière année, un nombre anormalement élevé d'abribus de la Régie des transports de Winnipeg ont été vandalisés. En raison du nombre élevé de panneaux de verre de remplacement requis pour les réparations, et des problèmes continus liés à la chaîne d'approvisionnement, notre fournisseur a de la difficulté à traiter nos commandes en temps opportun.
Nous continuons à travailler assidûment avec notre fournisseur pour remplacer le verre endommagé aussi vite que possible. L'équipe de réparation de la Régie des transports parcourt les rues tous les jours pour effectuer les réparations qui s'imposent aussi vite que possible.
Nous demandons aux personnes qui remarquent un abribus récemment endommagé ayant besoin d'être réparé de communiquer avec le 311.
La Régie des transports de Winnipeg lance une campagne d'éducation définissant les zones de sièges réservés et faciles d'accès
Le 6 juillet 2022 – La Régie des transports de Winnipeg lance une campagne visant à éduquer les passagers sur le rôle qu'ils peuvent jouer pour rendre le transport public accessible, et sur une politique approuvée par le conseil municipal portant sur les zones de sièges réservés et faciles d'accès dans les autobus. La campagne sera axée sur l'importance de collaborer pour faire en sorte que les personnes qui ont un handicap aient un accès équitable au transport en commun tel qu'il est énoncé dans la politique sur les zones de sièges réservés et faciles d'accès (en anglais seulement).
La politique établit que les sièges réservés sont destinés aux passagers qui ont un handicap, et que les sièges faciles d'accès sont destinés à d'autres personnes pour lesquelles il est bénéfique de s'asseoir près d'une porte, y compris les personnes âgées et les familles qui ont de jeunes enfants. Il faudra que tous les passagers collaborent pour que les sièges réservés soient disponibles pour les personnes pour lesquelles ils sont conçus.
La politique établit le rôle important que tous les passagers peuvent jouer pour faire en sorte que le transport en commun reste accessible pour tout le monde.
En vertu de la politique, on demande aux passagers de laisser les sièges de la zone de sièges réservés aux passagers qui ont un handicap. Lorsqu'un passager qui a un handicap visible ou invisible et qui a besoin d'un siège dans la zone réservée embarque dans un autobus, on demandera aux passagers qui n'ont pas de handicap et qui sont assis dans cette zone de se rendre ailleurs dans l'autobus. Le chauffeur diffusera un message automatisé au moment de la demande, et pourra aussi demander directement à d'autres passagers de quitter la zone au besoin.
La politique entrera en vigueur après trois mois d'éducation du public, soit le 5 octobre 2022.
On ne demandera pas à une personne ayant un handicap de céder sa place à une autre personne ayant un handicap; toutefois, si une personne qui utilise une aide à la mobilité doit s'installer dans la zone d'arrimage, on pourrait encourager quelqu'un d'autre à changer de siège, étant donné que les utilisateurs de fauteuil roulant ou de scooter pourraient ne pas être en mesure de prendre l'autobus sinon.
Guettez ces panneaux, qui seront installés dans les autobus de la Régie des transports pour identifier les zones de sièges réservés et faciles d'accès :


Selon la conception actuelle de nos autobus, la zone de sièges réservés est située à l'avant de l'autobus. La zone de sièges faciles d'accès inclut les sièges faisant face à l'avant qui se trouvent le plus près de la zone de sièges réservés.
En vertu de la nouvelle politique, les passagers doivent être en mesure de plier et de ranger les poussettes dans les autobus si cela s'avère nécessaire pour que la zone de sièges réservés soit disponible pour les passagers qui ont un handicap, et suivre les lignes directrices sur la taille des poussettes. La Régie des transports de Winnipeg a aussi identifié des lignes directrices sur la taille visant les fauteuils roulants et les scooters.
La Régie des transports de Winnipeg s'est engagée à atteindre son objectif principal, soit de veiller à ce qu'un transport accessible soit offert tout au long du déplacement, y compris au moment d'embarquer et de débarquer aux arrêts d'autobus. La nouvelle politique améliore aussi l'accessibilité en énonçant que les passagers doivent laisser les personnes qui ont un handicap embarquer dans l'autobus en premier.
La Régie des transports de Winnipeg s'est engagée à satisfaire aux exigences qui s'appliquent à elle en vertu de la Loi sur l'accessibilité pour les Manitobains et à veiller à ce que ses chauffeurs et ses inspecteurs soient formés dans les domaines liés à l'accessibilité pour pouvoir offrir le meilleur service à la clientèle qui soit.
Rapport Understanding and Responding to the Transit Needs of Women in Canada (comprendre les besoins en matière de transport en commun des femmes au Canada et y répondre)
Une étude de mobilisation des connaissances récente cofinancée par le Conseil de recherches en sciences humaines et Infrastructure Canada a étudié le rôle du genre dans les politiques en matière de transport en commun, en vue de comprendre la façon dont les besoins et les expériences en matière de déplacement des femmes canadiennes diffèrent, et la façon dont on tient compte de ces différences lors de la planification liée au transport en commun.
Vous pouvez lire le rapport en ligne.
On peut désormais consulter la nouvelle appli de la Régie des transports de Winnipeg pour obtenir des renseignements sur les horaires
La Régie des transports de Winnipeg a lancé une nouvelle application accessible et pratique qui permet de consulter les horaires d'autobus et de planifier des déplacements au moyen de Navigo. La version mobile de l'appli de la Régie des transports de Winnipeg est désormais disponible dans les boutiques d'applications Apple et Google Play, et peut également être consultée à l'aide d'un navigateur Web.
Grâce au lancement de la nouvelle appli, qui comprend des fonctions améliorées de planification des déplacements à l'allure et à la conception différentes, on peut maintenant obtenir des renseignements sur les horaires en français comme en anglais.
On encourage les utilisateurs à télécharger la version mobile de l'appli, qui donne l'option de se connecter pour enregistrer les paramètres liés aux déplacements, tels que les arrêts et les lignes favoris, permettant aux utilisateurs d'accéder à ces paramètres à partir de plusieurs appareils.
La Régie des transports invite les utilisateurs à fournir des commentaires sur l'appli avant le 1er mai 2022 pour l'aider à en améliorer le fonctionnement, par l'entremise de l'appli mobile ou par courriel. Une fois que la Régie des transports aura eu l'occasion d'incorporer les commentaires, l'appli remplacera les outils de renseignements sur les horaires qui sont présentement disponibles pour les navigateurs de bureau et mobiles, y compris BUSguide et les outils offerts à winnipegtransit.com. Pour favoriser la collecte des commentaires, on incitera initialement les personnes qui utilisent un iPhone ou un iPad à télécharger l'appli TestFlight pour se connecter, qui sera intitulée « Early Access » dans la boutique Google Play.
Port du masque
March 15, 2022 – La Province a supprimé les exigences liées au port du masque des ordonnances de santé publique provinciales. Toutefois, la Ville continue à recommander fortement l'utilisation du masque dans les installations municipales ainsi que dans les véhicules de la Régie des transports de Winnipeg au-delà du 15 mars. Les exigences liées au port du masque resteront en vigueur pour tout le personnel de la Ville, y compris les conducteurs de Winnipeg Transit Plus, dans un avenir prévisible.
On maintiendra d'autres mesures de santé et de sécurité qui ont été adoptées dans les lieux de travail municipaux, telles que les écrans en plexiglas, l'éloignement physique, la recommandation de remplir le questionnaire d'autoévaluation avant d'arriver au travail et les tests visant les membres du personnel qui présentent des symptômes.
Pour en savoir plus sur les mesures que prend la Ville contre la COVID-19, visitez winnipeg.ca/virusCOVID-19.
Annulation de la règle liée au port du masque de la Régie des transports de Winnipeg – Le 15 mars 2022