BUSwatch
Real-Time On Street Passenger Information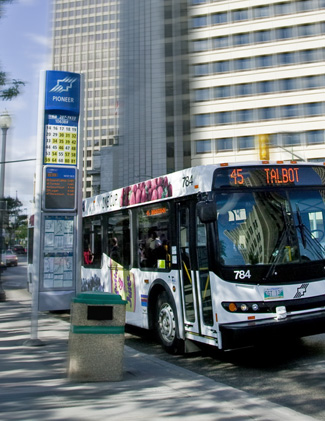 With a goal of providing Transit riders with the most accurate and up to date bus schedule information possible, Winnipeg Transit is rolling out BUSwatch. This program will see nearly 100 electronic signs providing real-time departure information to passengers at bus stops throughout the city.
Technology
On-board Bus Technology
In 2009 Winnipeg Transit completed the installation of GPS devices on all Transit buses. These devices allow for real time schedule adherence by informing the driver on a digital display where they are in relation to their schedule. This is possible because the exact location of the bus stop has been marked and as a bus passes a stop the on the route its coordinates are compared to a schedule of where they should be at any given time along the route.
Sign Technology
The signs use LED technology to produce bright and easy to read displays. Each sign is programmed to adjust its display brightness based on time of day and location of the sun. This information is programmed into the on-board computer with which each sign is equipped.
Signs update their schedule approximately once per minute by requesting updated information from our schedule server over a wireless data network.
Real-Time Schedule Information
If a bus is running off schedule (either ahead of or behind schedule) the bus will send a signal to Transit's real-time schedule server that updates its expected arrival time at all subsequent stops along the route. Each sign accesses this database once a minute so that it is providing the most up-to-date bus departure time for its location. This system ensures that "real time" information is provided to passengers waiting at one of these locations.
How to read the Display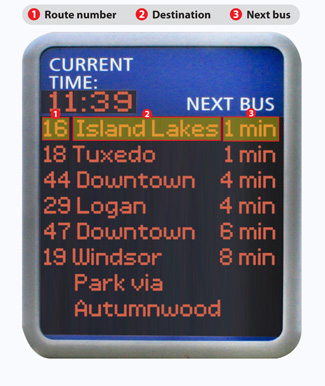 Each sign provides bus departure times for all buses servicing the stop.
The signs display the route number (1 above) on the far left with the bus destination (2 above) written out in the centre and the departure time (3 above) displayed on the right.
The departure time is displayed two different ways. Buses that will arrive in less than 15 minutes are displayed in "minutes to next bus" while buses that will arrive in more than 15 minutes are displayed showing the actual time they will arrive.