Transition to Zero-Emission Bus Study
Français
The Next Step to Electrifying the Winnipeg Transit Fleet
As cities across North America embrace a new vision for sustainable transportation made possible by recent advances in battery-electric bus technology, the City of Winnipeg has invested $1 million to help understand what it would take to make that vision a reality here. More than just purchasing zero-emission buses (ZEB), to transition to a fully electric fleet would require an overhaul of transit operations, every facet of which was designed for diesel.
The Transition to Zero-Emission Bus Study is now underway. The project builds on a successful electric bus demonstration, and the work of a 2015-16 task force that determined more information was needed to understand how to transition to an electric fleet, and what changes would be needed for planning, operation and maintenance based on electric bus charging technologies. The study is providing Transit with the information required to purchase and operate a mixed test fleet of 16 zero-emission buses, the first phase to achieving a full transition of its fleet.
You can learn more about the next steps Transit is proposing by visiting the 'Transition to Zero-Emission Program' tab.
Timeline
Background
Transition to Zero-Emission Program
Documents
FAQs
Related Links
Project Timeline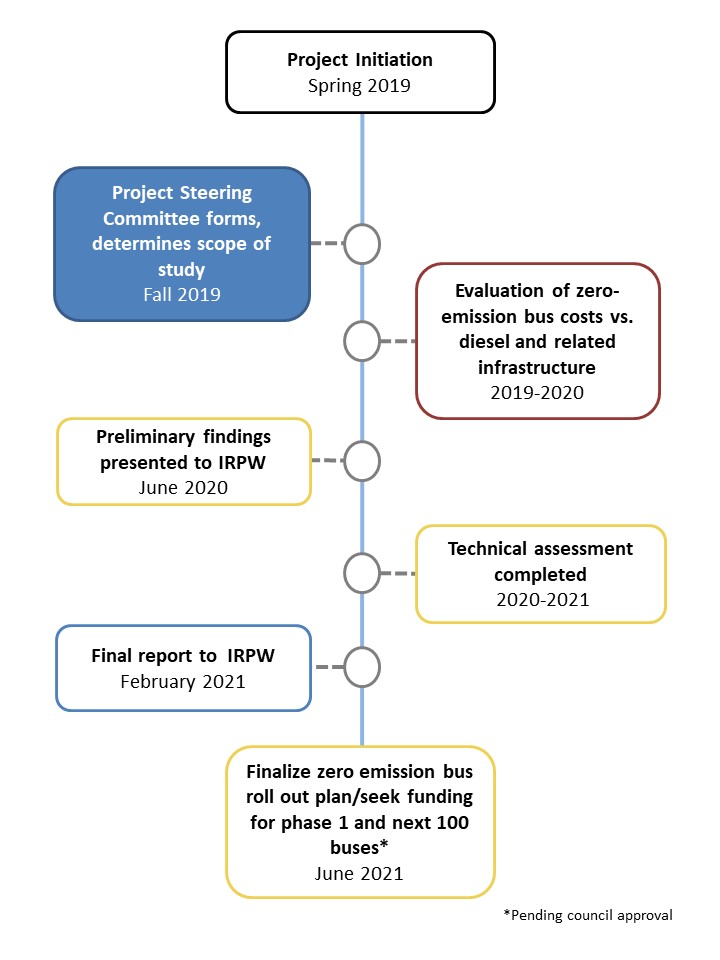 Background
A decade of development in Manitoba
The current Transition to Zero Emission Bus Study builds on trailblazing local efforts to develop and test electric bus technology for use in a cold-climate province. Electric bus activities began in Manitoba in 2010, when the Province of Manitoba signed an MOU with Mitsubishi Heavy Industries to develop and demonstrate electric buses.
In 2012, a demonstration began using a prototype bus built with Mitsubishi's battery technology and Manitoba bus manufacturer New Flyer's advanced Xcelsior glider platform. The bus was used to shuttle Manitoba Hydro employees between its headquarters on Portage Avenue and a location on Taylor Avenue, where a rapid-charger was temporarily located.
Electric buses go into service on Route 20 Watt-Academy
Following the first demonstration, New Flyer applied for funding from Sustainable Development Technology Canada to expand the project and develop four additional prototype buses for demonstration.
The City of Winnipeg partnered with New Flyer for the demonstration, which saw the buses being operated in on-route service with Winnipeg Transit for four years beginning in 2014. The buses operated on a two-hour route, Route 20 Watt-Academy, and utilized an on-route rapid charging system installed at the James Armstrong Richardson International Airport. The demonstration provided key insights into the construction, operation, and maintenance of battery electric buses, and the prototypes were retired and returned to the manufacturer in 2018.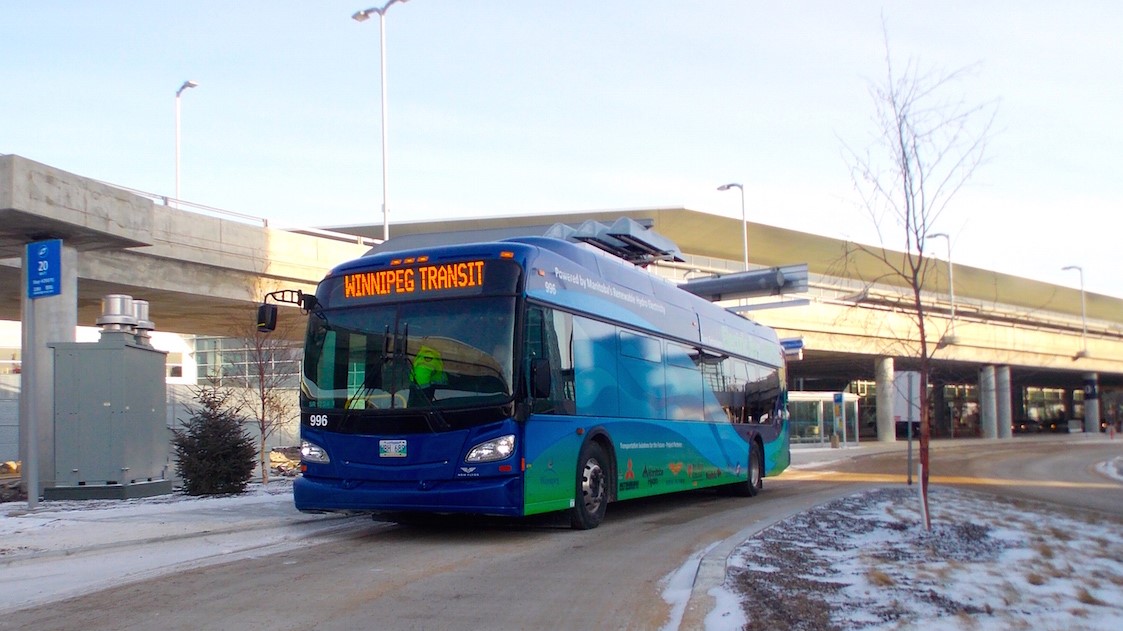 Task force forms
Recognizing the success of the ongoing demonstration, in November 2015 the City of Winnipeg and the provincial government announced the formation of a joint task force on transit electrification, which included representatives from Manitoba Hydro, New Flyer, and Red River College.
It summarized its findings in July 2016 in a report that outlined a number of benefits to new electric technology, including reduced fuel costs, reduced maintenance costs, as well as reduced GHG emissions and noise.
The task force concluded that while diesel buses were less costly than electric buses overall, the declining cost of batteries and the uncertain but likely-to-increase cost of diesel meant there could be a longer-term economic advantage to electric buses.
It also found there would be a significant cost to integrate electric buses into current transit networks, and while studies in North America had focused on small-scale testing, more information was needed to determine how to integrate electric buses on a larger scale. It was recommended that electrification be pursued in a staged approach; first deploying 12 to 20 electric buses, increasing to 120 to 200 buses, then full electrification.
Current study: Transition to Zero-Emission
The task force noted the demonstration in Winnipeg as one of the most advanced in the world, and the practical experience gained here made the location ideal for deploying electric buses on a larger scale.
As part of its 2019 budget, Council approved a $1 million investment to study how to transform a system of planning, operation, and maintenance designed around diesel buses to one around zero-emission buses, in order to begin the transition.
The Transition to Zero Emission: Technical Evaluation Report, and the accompanying Class 3 and Class 4 cost estimates, come as the result of the study.
Transit currently retires 30-32 end-of-life buses annually and replaces them with purchases made through its Transit Bus Replacement Program. Transit is now proposing that program be replaced with a new one, the Transition to Zero-Emission Program, which includes purchasing up to 110 zero-emission buses between 2022-2027. The first project under the new program would be the Transition Fleet Project.
Transit is recommending the Transition Fleet Project consist of an initial, mixed test fleet of 16 buses, which will allow Transit to gather data to help determine which technologies will work best for a full-fleet transition in Winnipeg.
When Winnipeg Transit puts the proposed Winnipeg Transit Master Plan forward for consideration, it will also put forward a recommendation that the Transition to Zero-Emission Bus Program be included as part of its application for the Investing in Canada Infrastructure Program, subject to Council approval.
Next steps will include the creation of a detailed transition plan that outlines how zero emission buses can be integrated into the Transit network, how facilities can be updated to support the new vehicles, maintenance requirements, and training considerations. The plan will cover how data from the test fleet will be collected and evaluated, and how Transit can scale its fleet upwards.
Transition to Zero-Emission Program
The proposed plan
In the proposed Transition to Zero Emission: Technical Evaluation, Winnipeg Transit establishes a clear path to begin its transition to a zero-emission fleet.
In it, Transit recommends its existing Transit Bus Replacement Program be replaced with the proposed Transition to Zero-Emission Bus Program, to help to ensure a smooth transition. The goal of the new program would be to set the direction for establishing a zero-emission fleet, subject to Council approval and securing funding sources.
Under the Transition to Zero-Emission Bus Program, Transit would apply for funding through the Investing in Canada Program (ICIP) towards the purchase of zero-emission buses.
If annual zero-emission bus purchases begin in 2024, by 2027 the Winnipeg Transit zero-emission fleet is expected to reach 100-110 buses, at an estimated cost of $280.4 million. While the total cost will be higher than the projected cost to replace buses with diesel, with ICIP funding the City's share of the cost will be lower, resulting in incremental savings of $10 million.
The first project under the Transition to Zero-Emission Bus Program would be the Transition Fleet Project, consisting of the purchase of an initial, mixed test fleet of 16 long-range battery electric buses. It would allow Transit to collect data to assist with all aspects of future planning and decision-making.
The initial test fleet and associated infrastructure is estimated to cost approximately $38.3 million. If Transit's funding application to the Investing in Canada Infrastructure Program (ICIP) is successful, the City's share of that cost will be approximately $11.4 million.
Transit is proposing the test fleet operate for 18-24 months in order refine plans and ensure it goes forward with the best technology for its route network and operations. After that, it can begin purchasing zero-emission buses annually, as it replaces diesel buses in need of retirement.
Because the Brandon Garage and Fort Rouge Garage only have electrical service capacity to support the first 100-110 zero-emission buses, by 2027, Transit will need further investment and a dedicated garage to support continued growth of the zero-emission fleet. It is proposing its North Garage, which is in need of replacement, be rebuilt with that purpose in mind.
The Benefits
Compared to diesel buses, zero-emission buses have lower annual operating costs.
Each new zero-emission bus added to the fleet will eliminate nearly 62 tonnes of greenhouse gas emissions annually.
The transition plan will allow Transit to meet its target set out in Winnipeg's Climate Action Plan.
Transit will power its zero-emission fleet using Manitoba's clean hydro-electricity, reducing reliance on imported fossil fuels.
If fleet replacement begins in 2024 and continues as proposed:
By 2030, the Winnipeg Transit Fleet will be 30 percent zero-emission.
By 2047 or potentially sooner, the transition will be complete.
FAQs
How soon could Winnipeg Transit begin operating zero-emission buses again?
How will this impact how Transit currently replaces buses?
What kind of buses are being proposed for the test? Why?
Why are you proposing a mixed test fleet? Wouldn't it be cheaper to use one type of zero-emission technology?
Which company will Transit purchase the buses from?
Will Transit stop purchasing diesel buses?
Fuel-cell battery electric buses use hydrogen for fuel. Isn't hydrogen dangerous?
How much will the proposed transition cost?
What happened to the electric buses used on Route 20 Watt-Academy?
Winnipeg led the way in demonstrating electric buses. Why is this taking so long?
How will this proposed plan help with the fight against climate change?
Would we move forward with this project without receiving ICIP funding?
Where would buses charge/refuel?
How does this plan relate to the Winnipeg Transit Master Plan?