Bomber Fan Fare
Bomber Game Day Service
Active Transportation Along the Southwest Transitway
Active transportation is a better choice than ever before for football fans heading to IG Field, with an active transportation path (opened in 2020) that runs the entire length of the Southwest Transitway and into the University of Manitoba campus. Wayfinding signage along the trail directs people to the campus.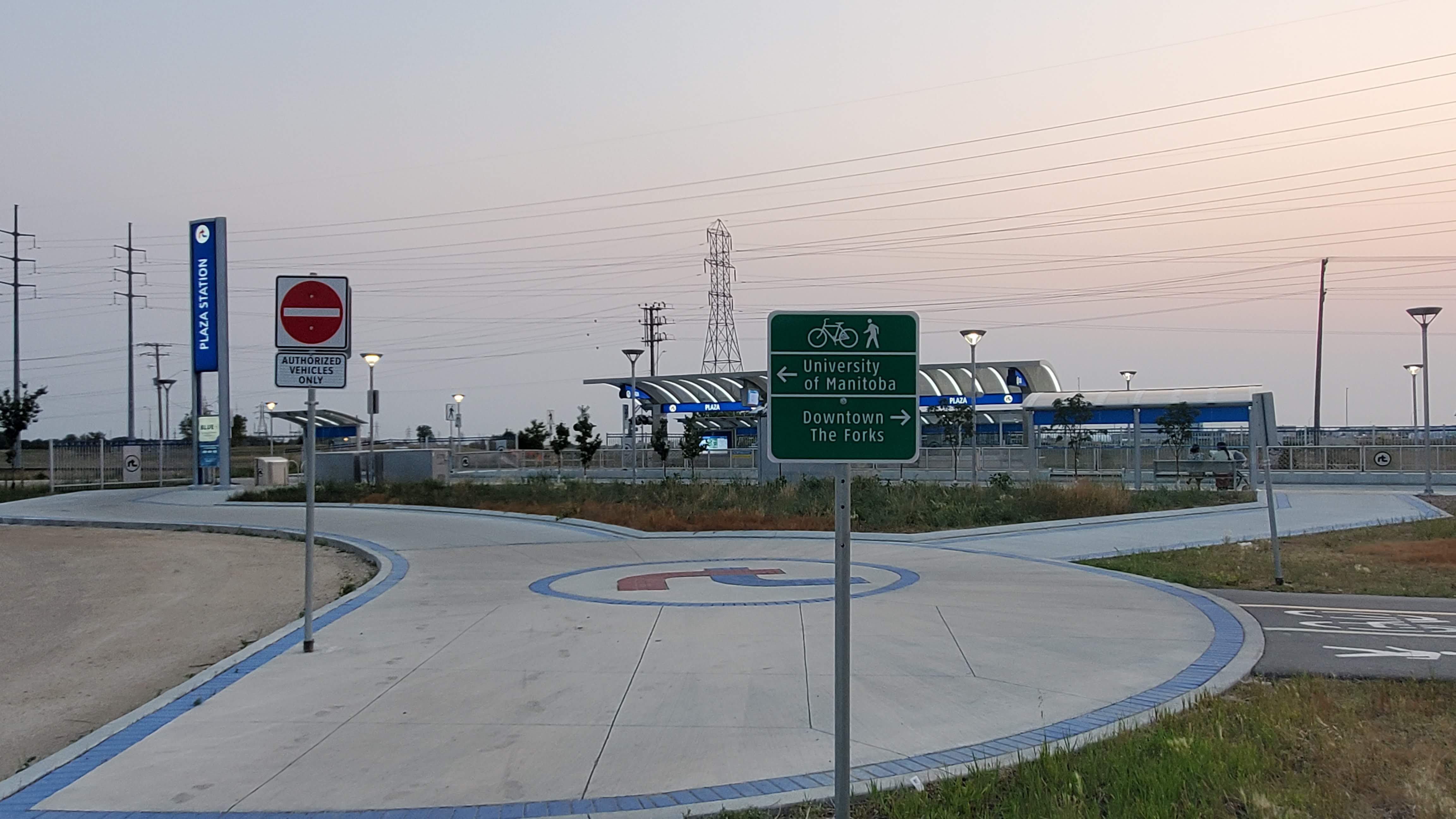 A bicycle valet service is available during games at IG Field at the Northeast Gate.
Game Day Highlights
Regular Transit fares will be collected on all Winnipeg Transit service to and from the game. This also applies to Winnipeg Transit Plus service. Fares may be paid in cash (exact fare), Transit tickets or passes.
The Winnipeg Blue Bombers are operating their own Park & Ride services using school buses on five routes, commencing 2 hours prior to game time. Visit the Blue Bombers' website for more information about their Park & Rides. Note: destinations for Blue Bomber Park & Rides changed in 2022.
Two Winnipeg Transit Park & Ride locations are open at Clarence Station and Seel Station along the Southwest Transitway. Anyone using these locations must pay transit fare to board a bus.
Post-event, passengers can access Stadium Station through Gate 3 and Gate 4. See our Stadium Station Map for Bomber Games for details.

Please note there is no pedestrian access from Stadium Station to the Active Transportation routes through the Southwood lands.
Active Transportation paths can be accessed by leaving Gate 3 or Gate 4 and walking to University Crescent.

There will be a bicycle valet available at IG Field, at the Northeast Gate.
Fares
Regular fares will be charged for all Transit passengers leaving Winnipeg Blue Bomber games at IG Field.
Fans are encouraged to be prepared with their cash fare or their pre-loaded peggo card. We appreciate everyone's cooperation and patience as it may take a bit longer to board Transit buses following the game as fares are now being collected.
Fare information can be found on our Transit fares page.
Regular Service to the Stadium
There are several regular service bus routes that will operate to and from the University of Manitoba before and after the game or special event.
Extra Regular Service to the Stadium
There are several regular service bus routes that will have additional service added for Bomber games and special events. These additional buses are there to help make sure everyone makes it safely to the Bomber game or special event. These routes will operate with an X next to the route number. All buses marked with an X in the route number will operate to Stadium Station:
X60 Pembina
X75 Crosstown East

XBLUE

– Downtown

XBLUE

– Seel Station
Blue Bomber Park & Ride Service
Information about Blue Bomber-operated Park & Rides, including the cost and routes, is available on their website. Please review if you are taking these shuttles as the destinations for Blue Bomber operated Park & Rides have changed.
Winnipeg Transit has two Park & Rides along the Southwest Transitway located at Seel Station and Clarence Station. Passengers using a Winnipeg Transit Park & Ride are able to park for free and must pay fares to board buses.
Post-Game Service
All Blue Bomber Park & Ride service and extra regular service on routes 74, 75, 78 (via Cambridge and via Kenaston) 60, and BLUE will operate from Stadium Station, located outside of Gate 4. An additional BLUE route will operate to Seel Station only, for users of the Winnipeg Transit Park & Ride.
A map showing post-game boarding locations can be found here:
Stadium Station Map for Bomber Games

If you are unsure of where to catch your bus on your return home, our Transit Supervisors will be on scene to help guide you to your bus.
Wayfinding signage will be posted at Investors Group Field to help you find where to board your bus. See a sample of what the signs look like below: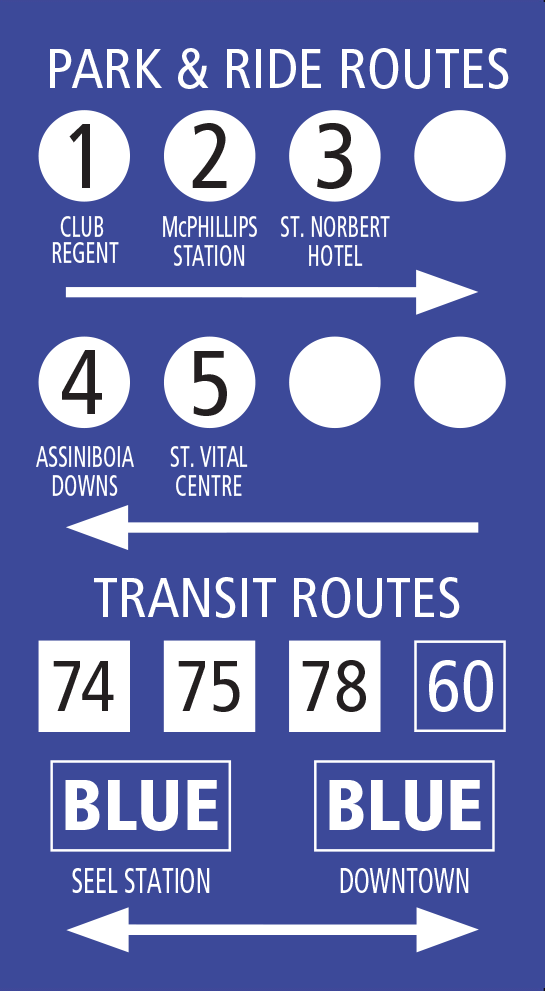 Transit Plus Service
Pick up and drop off for Transit Plus registrants who have booked trips in advance will occur at IG Field Gate 1, located at the corner of Chancellor Matheson Road and Ken Ploen Way.